Sewage Treatment Plant
We are equipped with experience and required skills necessary to tackle
and handle your sewage system project in a professional and timely manner.
Mobile Water Solutions
Providing guaranteed water treatment solutions to keep our customer's plants online and in production, and we do it all on demand. With the largest mobile fleet of its kind, Mobile Water's hundreds of mobile units cover just about any type of application
Using mobile water systems like our MobileFlow*, ZeeWeed* ultrafiltration, MobileRO*, Mobile EDR, and seawater desalination systems, we can provide standardized equipment or systems that can be configured to fit your specific application.
Just like industries and municipalities around the world, you too can rely on Mobile Water to deliver a wide range of water treatment solutions for planned and unplanned events, including:
Emergency outages or equipment failure
Planned outages for equipment repair
Seasonal demands and product expansion
Plant start-ups
Changes in raw water quality
Sudden changes in effluent specifications
Expansion of existing water plant
Regeneration and cleaning services
Drought and hurricanes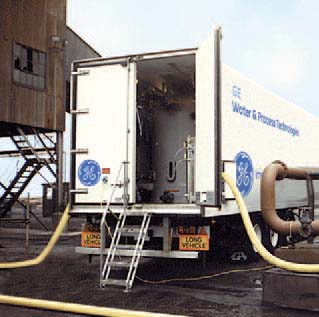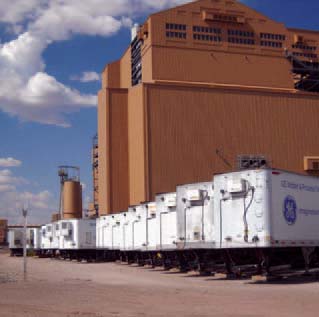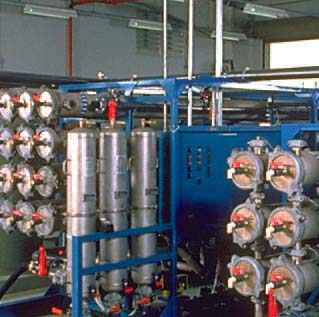 A Mobile solution for nearly any situation
Short-Term Solutions
For flexible time periods, our short-term solutions can replace or augment your current system with the same reliable system availability.
We meet your quality and quantity needs to help you through planned maintenance periods, new plant start-up or commissioning, outages, peak demand periods, and the challenges associated with variable feedwater.
We will deliver our mobile equipment to your site to supply the treated water you need to maintain essential services.
Example: Coal-fired power plant
Situation
The power plant needed a complete steam blow to remove deposits resulting from repairs to the superheat and reheat sections.
Limited DI and city water capacity would have required an intermittent steam blow lasting three weeks
Solution
Deployed 720 gpm (164 m3/hr) deionized and deoxgenated mobile water system using alternate raw river water source.
Benefits
Finished the complete steam blow in 48 hours resulting in savings of contractor costs and generating capacity availability.
Long-Term Solutions
For longer-term needs, Mobile Water provides complete turnkey solutions, allowing you to focus on your core activities and conserve your capital. We can help with new projects, or replace and upgrade existing systems while guaranteeing water quality and quantity, all with little or no capital investment on your part. Along with our mobile equipment, we provide trained personnel and maintenance services on a long-term basis to guarantee water quality and quantity.
Example: Textile manufacturer
Situation
Existing conventional resin-based demin plant
Age and increasing operational cost constraints drove a need to change technology and approach
Solution
Deployed Mobile Water as part of a Build, Own, and Operate (BOO) offer
Benefits
Quick execution
Mobile Service backup
Emergency Solutions
Need help quickly? Mobile Water is there with products and solutions to help you weather the unexpected. In the event of a water system failure, you can count on GE Mobile Water's rapid response to provide you with versatile equipment that is easy to install and operate. Our emergency contracts can be open-ended, are available 365 days a year, and are backed by 24/7 worldwide logistics and dedicated customer service. Within hours of a call to our logistics center, our mobile equipment will be at your site supplying the treated water you need to keep afloat during an emergency.
Example: Refinery
Situation
The pure water system was out of order and needed about three weeks for maintenance.
The next scheduled plant shutdown was three years away so the refinery urgently needed an alternate solution that could provide 550 gpm (3000 m3/day) of pretreated water.
Solution
Deployed a mobile softener and MobileRO.
Benefits
In just a couple of hours, GE Mobile Water was able to supply water during the maintenance operation and avoid plant shutdown.
Innovative Technologies
MobileFlow Configurations
At Mobile Water

We design water systems using the latest technologies suited to your specific water needs and applications. Ion exchange technology, like that used in our MobileFlow* system, is well suited for applications such as water softening, demineralizing, and condensate polishing (reducing iron and silica content in water). See the diagram below for more information.
In addition to our mobile Media Filtration systems (MMF), our versatile and reliable ZeeWeed* Ultrafiltration membrane technology is ideally suited for use in numerous water applications, including water reuse, filtration, and pretreatment for brackish and seawater reverse osmosis. ZeeWeed* systems produce superior water quality and can accommodate a wide variety of influent water qualities and filtration applications up to 2000 gpm (454 m3/hr).
Our family of MobileRO* products are uniquely designed to accommodate even the most challenging water applications. We offer systems in a variety of flow rates and configurations, which can be customized and combined to meet your specific water quality needs. GE has several hundred MobileRO units in service around the world with flow rates available up to 700 gpm (159 m3/hr) in a single trailer.
---
Ultra Filtration System
Application - ZeeWeed* UF package units serve a community with a population of 11,500
Capacity - 700 cubic meters per day
Location - Inyishi, Imo State Nigeria
Commissioned - March 2012
Challenge
The Federal Ministry of Water Resources of Nigeria needed to build a drinking water treatment plant for the community of Inyishi in Imo State for the provision of potable water in a community which currently relied on untreated water for potable water.
The challenge was to deliver a system with minimal human interface, yet still offer a robust, compact, and easy-to-operate design; all with a delivery and install deadline that fell within the space of 4 months. Time was critical here since the Ministry was poised to have good quality of water delivered to the community before the close of Q2 2012.
Results
With the quick deployment of SUEZ's Z-BOX systems, the community of Inyishi will be able to deliver high quality treated drinking water to the community in the near future, supporting a growing region where access to potable water has been a challenge over the years.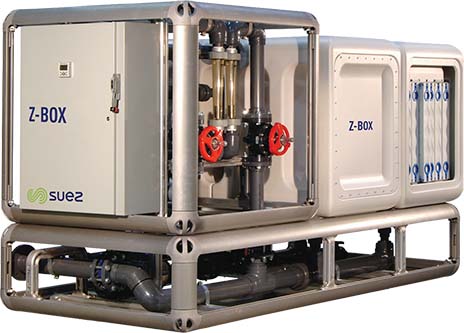 Solution
SUEZ's Water and Process Technologies was well positioned to meet the community's challenge with its Z-BOX* Ultrafiltration product line, which allows for a high level of automation and treatment capability. Additionally, due to SUEZ's extensive manufacturing capabilities and inventory of the Z-BOX, SUEZ was able to meet the tight timeframe required by the project, working with WATTCCON, its Independent Third-Party Channel Partner in Nigeria, and the Ministry's EPC contractor UMEZ Engineering Ltd.
The SUEZ solution consisted of two Z-BOX S12 systems. At the core of the system is SUEZ's ZeeWeed 1000 Ultrafiltration (UF) membrane, which provides protection against turbidity, colour, and pathogens from the raw water; pathogens are of particular concern to this community. Because the Z-BOX S12 Ultrafiltration System is SUEZ's pre-engineered and skid-mounted UF system, its attributes specifically result in reduced engineering, installation, and commissioning requirements for the facility. The system is controlled by a programmable logic computer (PLC) and Human Machine Interface (HMI) enabling automation of operations resulting in lower time requirements for the supervision of the plant.
The Z-BOX system was delivered pre-designed and skid mounted to promote quick installation and commissioning, while maintaining precise engineering and detailed specifications.
The two systems combined will be able to treat 700 cubic meters per day of water from the local water source and will serve a population of over 11,500 in the area.
---
Waste Water Re-Use Solutions
Building Size - 33,160 sq. meters
Location - New York, US
Application - Wste water re-use
Plant Size - 65 sq. meters
Capacity - 95 cbm / d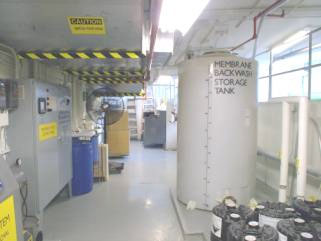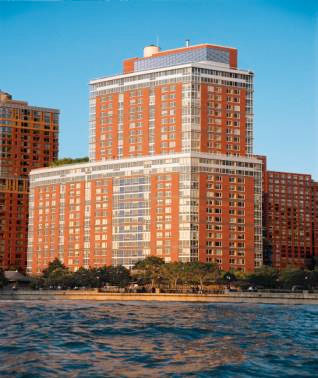 Plant Overview
The 250-unit, Solaire Apartments in Battery Park continues the city's trend to reusable, sustainable, and efficient residential development. This specific development was a private-public partnership and is the first "green" residential high-rise building that incorporates advanced materials, energy conservation and water reuse in an urban setting. The development has adopted features that will become a must in the future as populations grow and water resources become limited.
The Solaire Apartments selected SUEZ's proprietary ZeeWeed** membrane bioreactor (MBR) process to treat, store and reuse the wastewater for toilet flushing, irrigation and cooling towers. This approach reduces the freshwater taken from the city's water supply by over 75%, and significantly decreases energy costs as less drinking water is pumped from the city's treatment plant and wastewater is not transferred to the city's wastewater treatment system. The system is the first onsite water recycling system in the U.S. built inside a multi-family, residential building.
Process Oveview
The 25,000 gpd (95 m³/d) onsite wastewater treatment, storage and reuse system is located in the building's basement, and includes a series of common-walled, cast-in-place, concrete tanks. The first step in the process is a collection and settling tank where large solids are removed. The wastewater then flows to a bioreactor, which contains active bacteria used to consume or digest the biodegradable waste.
ZeeWeed ultrafiltraton membranes are immersed directly into the bioreactor, which eliminates the need to settle solids, and significantly decreases the necessary size of the treatment tanks. Permeate pumps are used to gently pull the wastewater through thousands of membrane fibers. Each fiber is filled with billions of microscopic pores that physically block suspended solids, bacteria and viruses from passing through—guaranteeing an exceptional water quality and clarity on a continuous basis.
The treated water is then further disinfected by ultraviolet lights. Any remaining color and odor is removed using an ozone generator that also provides a residual disinfection during water storage. The storage tanks serve as reservoirs for the treated water, which is used as flush water, make-up water for the cooling towers, and for irrigation.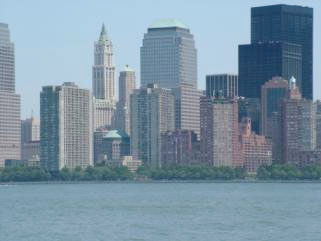 Trucking Services
Our end-to-end service guarantees and ensures efficient and seamless transfer of your item.
We provide cost-efficient trucking services while ensuring good service quality.
- Dump Trucks
- Wing Vans
- Flat Beds

Complete Waste Management Solutions
Hazardous, Non-Hazardous and Toxic Waste Handling, Classification, Sorting, Packaging, Transport, Treatment, Destruction and Disposal.
- Expired Chemical
- Pharmaceuticals & Drugs
- Pesticides
- Waste w/ Inorganic chemicals
- Waste with Organic solvents
- Miscellaneous Waste
- Contaminated containers
- Contaminated materials